Tag: macrodroid
by balleman on Feb.07, 2016, under Android
There are few things more frustrating than when an upgrade causes the loss of features you depend upon.  In the case of my upgrade from the Nexus 4 to the Nexus 5x (and therefore from Android 5 to 6, ahem, Lollipop to Marshmallow) I lost my automation that would enable the WiFi hotspot while in my vehicle.  Tethering works fine by enabling it through Settings, but it generates an error when enabling it with Macrodroid.
Enabling the hotspot is not something that is accessible from a public API, so the ordinary method seems to be to use reflection to make the change using the private API.
From setWifiApEnabled(), eventually enforceTetherChangePermission() is called in ConnectivityManager.java. This method checks if config_mobile_hotspot_provision_app is set, and if so, requires the CONNECTIVITY_INTERNAL permission which is only granted to system applications.
The cause of my problem, therefore, seems to be that "Entitlement APP provisioning for Tethering" (config_mobile_hotspot_provision_app) is enabled in the Nexus 5x-specific configuration for at least my mcc/mnc, and was not present on the Nexus 4.
After not finding any other applications or configuration to solve this problem, the path I went down was to create my own system application with the CONNECTIVITY_INTERNAL permission, to see if it could enable the hotspot. I was successful, so I implemented the application as a Locale plugin (i.e., quickly hacked it together with the example plugin) so that it could be called directly by Macrodroid. This seems to be working fine. You can (at your own risk) download it here and then you will need to move it into /system/priv-app for it to get the privileges of a system application, probably using your recovery image (TWRP, for instance).
It may also be possible (and perhaps better) to resolve this by removing the config_mobile_hotspot_provision_app configuration, after which it should be possible to use the native Macrodroid hotspot actions, as described here, but I've not tried it yet for myself.
Update 2016-09-10: For Android 7 / Nougat, the permission required is now TETHER_PRIVILEGED, but otherwise the above method still works. An updated APK is here.
Comments Off

on Automated hotspot control on the Nexus 5x
:
macrodroid
more...
by balleman on May.05, 2013, under Linux, Radio
Rooting
Let's face it, Android is far more interesting when you have full control of it. The software pre-loaded on the unit does not provide root access. Hal9k_ on the xda-developers forum has created a software update that provides root and adds some additional features. To perform the update, you place the files on the root of the removable SD card, power off the radio by holding down the volume knob/button, and start the radio by holding down the volume knob/button and the menu button simultaneously.
Network Connectivity
Not exclusively a software topic, but I'll cover this here. For full functionality, it is desirable to have the radio with internet connectivity whenever possible. When at home, this means a WiFi connection to the home network. The location of the WiFi dongle provides decent signal strength to the home network from the usual vehicle locations and works as well.
For mobile connections, it is possible to use a 3G USB dongle to provide the unit with network connectivity. I don't have such a dongle, and with mobile provider pricing structures such as they are, I have no intention of providing my car radio with a dedicated service at this time. The alternative is to tether to my cell phone, which is also an Android device. Right now, I'm using MacroDroid on my Nexus 4 to enable and disable the WiFi hotspot feature automatically. The rules I have are:
On Bluetooth connect to the Radio, and WiFi is not connected on the phone, enable the hotspot.
On WiFi disconnect, and Bluetooth is connected to the Radio, enable the hotspot.
On Bluetooth disconnect from the Radio, and hotspot enabled, disable the hotspot.
This tries to prevent enabling the hotspot in cases where WiFi is available, but properly turn on the hotspot if driving out of range of the home WiFi. So far it seems to work relatively well.
One additional area of interest is how to show the cell phone signal strength on the radio. I found the Tether Signal Strength app that provides a capability for this. Unfortunately, the current design of the app makes the signal strength hard to see, and worse, is not easily automated to start on boot on the radio, or start on hotspot on the cell phone. I think either improvements to this app, or maybe a new one entirely, will be the solution.
GPS and Navigation
Always-On GPS
Android generally will only enable the GPS receiver when there is an application actively using it, primarily as a power-saving measure. Even though there are no real power usage concerns with this device, the default software still disables the GPS receiver when not in use. Since GPS takes some time to acquire, I really prefer it to be active the entire time the device is running. I found the ActiveGPS app to meet this need, but there are probably other 3rd party apps that do just as well. As with the rest of my Android devices, I installed GPS Status to be able to check the received signal strength from the GPS constellation.
Navigation
Google Maps and Navigation are certainly part of the solution for navigation on an Android device. I did want to try an App that provided similar functionality to the Garmin nüvi
(ad) that I've used for years. While Garmin does sell navigation software for Android, from what I can tell, the reviews of recent versions have not been great, and it is also not currently available for customers in the US. I wanted something that would be fully functional when working without an Internet connection, since when I'm off exploring in the mountains and valleys around here, it's fairly common to be without connectivity.
Currently, I'm using Sygic for this purpose. I'm not entirely sold on it, but it does appear to be functional. Depending on how actual use goes, I may just use it as a backup for the more accurate Google Navigation. Here are some notes, observations, etc:
The navigation does not appear to be extremely efficient. I plugged in a destination of Renovo, PA from home, and the proposed route was something like 2 hours longer (and very far out of the way) as opposed to Google or the Nuvi.
It has a small battery display which I have not found a way to turn off. It's obviously irrelevant for the car radio.
By default, it notifies on sharp turns and railroad crossings. While it starts out kind of novel, it quickly becomes annoying. Fortunately, these can be easily disabled in settings.
The jury is still out on this.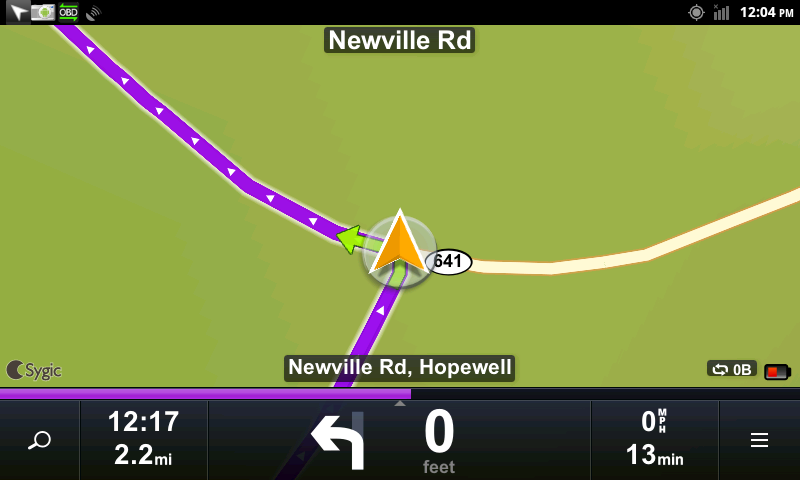 Vehicle Sensors and Diagnostics
It seems that the application for OBD2 stuff on Android is Torque, and it is pretty awesome.
OBD2 Interface
The most common way of connecting to OBD2 seems to be to use a Bluetooth to OBD2 bridge. The Bluetooth capability of the radio, however, is not accessible to Android. The updated software provided by Hal9k_ provides a work-around to this, by adding the kernel modules necessary to support Bluetooth. You are then able to use a Linux-supported Bluetooth USB dongle. You need to install a 3rd party Bluetooth manager application, since the Bluetooth settings applet is not included in the software. When paired with an OBD2 Bluetooth adapter
(ad), you're able to use Torque.
There are some apparent downsides to this approach. For the cheap adapter I bought, it is powered by the OBD2 port and stays active even when the engine is off. I'm not sure how significant of a drain this would be, but I would prefer not to deal with it. The second issue is related to security. The Bluetooth adapter uses a fixed, default security code for pairing, and appears to always be available to pair. It would not surprise me at all if the OBD2 could be abused to do terrible things, such as unlock the doors, by someone knowledgeable. Sure, this is probably a very small risk, but I'd prefer to avoid it. (I think those of you with OnStar are insane from a someone-else-can-control-my-vehicle-remotely standpoint).
Alternatively, Torque also supports OBD2 to USB adapters. Hal9k_'s software update also provides the pl2303 kernel module, which supports the USB to serial bridge used by many of these adapters. If you have one of these, the only additional thing you need to do is configure Torque to use it. While Torque does have USB settings in its menu, these appear to be insufficient and you need to create a configuration file that makes it think it is a Ca-Fi unit.
echo "finland_rds_ru" > /etc/carit_version2 ; chmod 644 /etc/carit_version2
Alas, the OBD2 to USB adapter
(ad) that I bought does not use the pl2303, and instead needs cp210x. I did successfully build and install the cp210x kernel module, but it was an ordeal that deserves its own article. The adapter is powered by the USB, so it does not draw power when the vehicle is off.
Sensor Monitoring
Torque provides a variety of dials and graphs that can be used to display sensor data. You place them on a grid on the screen, and can swipe to page between multiple screens. I found it difficult to get accurate placement using the resistive touchscreen, so I used a USB mouse for most of the screen setup. As far as the sensors themselves, I was just recently able to add what seems to be a transmission fluid sensor reading. I still can't find a usable PID for fuel level, which I found odd, since my truck and previous car both support the general PID for this, which is apparently not common. I would also like to find a way to show more details about transmission operation, such as current gear.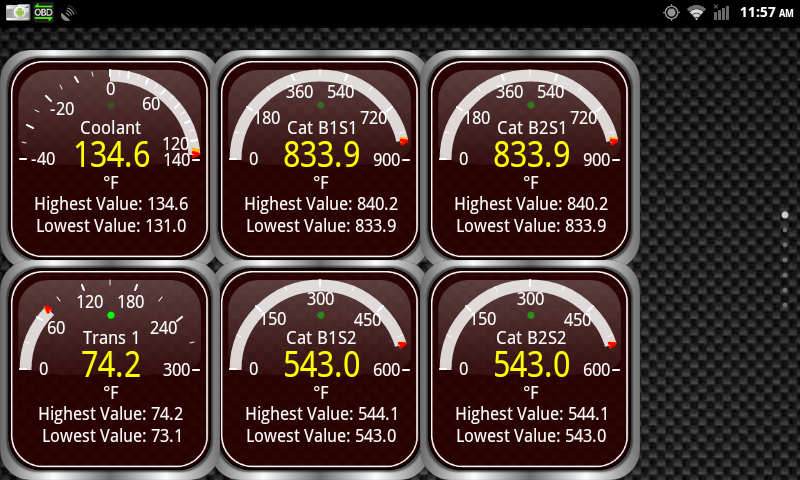 Software-Defined Radio
When I saw Doug give a short presentation on SDR on Android using the same RTL2832U/E4000 USB dongles that I have laying around, I knew this had to be an objective of my Android-in-the-car project. On the face of it, it looked as if it could be a problem. Most of the information on the SDR Touch software was on Android 3.0 or higher, while the head unit still runs 2.3. I also was concerned that the device would not have enough CPU power to make it work, or that the USB port would not have enough power to keep it working. Fortunately, these concerns were mostly unwarranted.
Out of the box, the software did fail to work. After some Google'ing, it was determined that the chmod that comes with this system does not support the -R option. This caused the software to fail when trying to change the permissions on the USB devices. Mounting the /system file system as read-write, and then linking chmod to the busybox binary, resolved the problem.
As far as CPU usage was concerned, it was not as bad as I feared it might be. Here is a table of observed CPU usage of the androsdr2 process, when performing NFM demodulation with different settings. In all cases, the rtl_tcp_andro process is running at a steady 5% CPU utilization, which is not included in the numbers below. Also, as one would expect and hope, when the app is not in the foreground it behaves as if the spectrum display is off. There was a noticeable, but not substantial, degradation in audio quality with the Low CPU option enabled.
| SDR CPU Selection | Spectrum Display | CPU Usage |
| --- | --- | --- |
| normal | on | 57% |
| normal | off | 42% |
| low | on | 33% |
| low | off | 15% |
The user interface of the software is not very well suited (yet) for use in a vehicle. Too much user interaction is required to operate it. When loading the software, it does not automatically enable the radio. You have to select the "Off" button to turn it on. It does remember the last tuned frequency, but it does not remember the bandwidth last selected. In my case, to listen to the local weather band transmissions, it greatly improves the intelligibility of the audio to narrow the reception bandwidth. This requires something of a precise dragging motion on the screen, which is not trivial with the resistive screen, and is not really possible while the vehicle is in motion. Some minor improvements in the app could really improve this – such as remembering the last bandwidth, enabling the radio reception upon the app starting, and providing a means of having pre-sets of frequency and other parameters for listening to favorites.
Overall, this is still an amazing capability to be able to add to a car radio head unit.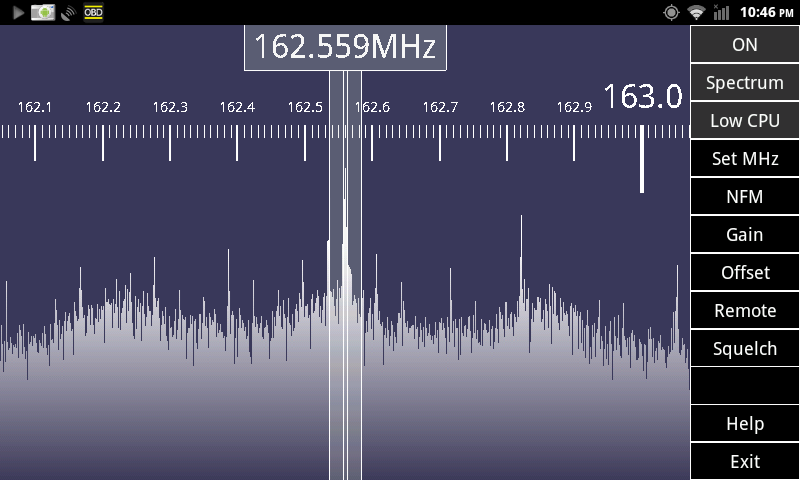 There is probably more to say on this, but the article is long enough.
Comments Off

on Initial Software for the Android Car Radio
:android, carputer, cp210x, e4000, macrodroid, pl2303, rtl2832u, sdr, sygic, th8581ga, torque
more...